The events were conducted in 20 different locations of Kerala with the participationof 50 grass-root organizations. Elected representatives of local bodies (Panchayats) were invited to join the "Walks for Water and Sanitation", which were conducted towards places of significance including Offices of District administration, Panchayat head quarters (P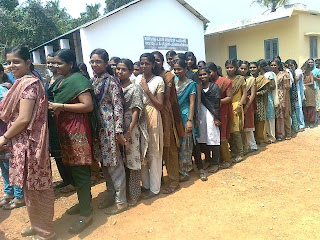 RIs), places of historical significance, on the bank of rivers, lakes, parks etc. Groups of activists walked carrying placards with messages on the importance of water and sanitation to get the attention of local administration, State and national administration and demand political change to address the crisis; and above all to get the attention of the community as a whole, to change their attitude and approach to water and sanitation.
Many young people from educational institutions participated in the 'Walks for Water and Sanitation', and altogether, 5000 people from different walks of life participated in Kerala under the auspicious of FANSA- Kerala Chapter. The Walks were very colorful with traditional drums (Chenda melam) and other cultural performance attracting much media attention. In Kollam district of Kerala, 20 eminent Malayalam (local language) Poets participated in the cultural events, reading poems on "rivers, streams, lakes, rain, water, hygiene and water pollution, all emphasizing that "water is a life sustaining resource".
Seminars were also conducted in five districts in Kerala on the eve of World Water Day 2012, on different aspects of water and sanitation with presentations made by experts in the area followed b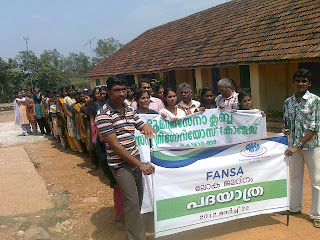 y discussions. "Oaths" were made by all participants on the protection and preservation of water bodies and resolutions were passed against "open defecation' and "dumping of waste in open". "Street-play" was also an important component of the event in small towns and villages in order to exhibit the importance of water and sanitation to local communities. Two books on water and climate change were also released to mark the occasion.
Overall it was a very exciting and successful day of walks and accompanying events all over Kerala demanding change to address the water and sanitation crisis!